Jul 10 2019 By Megan P.
Stranger Things Season 3 (check out Season 1 and Season 2 from EVPL!) dropped on Netflix this week. If you're like me, you went into the first episode with the goal of savoring each installment and taking your sweet time to make the show last, before ultimately ending up binging the entire season before the weekend. We can expect a decently long wait before we're graced with a fourth season. So, what can we do to stay occupied in the meantime? Here's Eleven titles to tide you over, full of '80s references, creepy creatures, and young friends.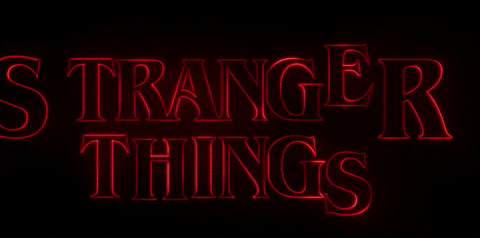 Paper Girls by Brian K. Vaughan
This graphic novel series makes a perfect pairing with Stranger Things. The story follows a group of tween paper-slinging gals in the '80s who stumble upon a bizarre, time-traveling, science fiction scenario that needs to be read to be understood. While it's not as terrifying as Stranger Things, it certainly plays up the nostalgia, has a similarly healthy dose of good versus evil, and juxtaposes day-to-day life in the suburbs with the unbelievable.
The Ocean at the End of the Lane by Neil Gaiman
While this book has received a great deal of praise and attention since its 2013 release, rarely have I heard this book described as "creepy." However, this is by far one of the most ominous, spine-tingling books I've ever had the pleasure to read. How can I describe the feeling of reading this book? Think Will Byers with goosebumps down his neck when he knows something dark and terrible is coming. Toss in a dose of the coming-of-age theme Stranger Things does so well and you have a quick, unsettling, unique story that you'll carry with you long after it ends.
The Saturday Night Ghost Club by Craig Davidson
Davidson's novel gives us another small town '80s setting to fill readers with a sense of nostalgia. The story follows a 12-year-old boy and his friends who together form the titular ghost club. This is a haunting coming-of-age story with a touch of the creepy, the macabre, and the supernatural.
The Darkest Minds by Alexandra Bracken
Did you ever think while watching Stranger Things "this would be even cooler if all the kids had powers like Eleven?" If so, this might be a great next read for you. While Stranger Things transports us to the past, The Darkest Minds flings us into a dystopian future where young people are both criminalized and weaponized for their special abilities.
The Body by Stephen King
I'm not the first nor the last to draw a comparison between Stephen King's novella and Stranger Things. If you aren't familiar with this story (or the movie version, Stand By Me) suffice it to say both stories poignantly capture the feeling, time, and place of small-town 1980s America for a group of young boys. It can be found in the collection Different Seasons.
Sawkill Girls by Claire LeGrand
Legrand's novel is another thrilling take on a group of young people teaming up against a dark, supernatural force. Much like in Stranger Things, we get a look into the mind of the monster via a good old fashioned case of possession. Sawkill Girls also offers up three strong, relatable female characters to root for.
The Troop by Nick Cutter
Let me begin this recommendation with a fair warning: this may not be the best read for those who struggle with the more horrific and gory aspects of Stranger Things. On the other hand, if you've ever wanted this TV series to take the horror up a notch, you may have found the right book. The Troop tells the story of a group of boy scouts camping on an island when a man carrying a fast-moving, vicious, bio-engineered parasite stumbles onto their camp. What ensues is not for the faint of heart.
Disappearance at Devil's Rock by Paul Tremblay
This book will give you a generous helping of Stranger Things season 1, episode 1 "The Vanishing of Will Byers" vibes. This is a suspenseful and creepy novel that begins with a mother learning her 14-year-old son has gone missing in the woods. It has all the police searches, cover ups, concerned friends and family, and supernatural creepiness that made the first season of Stranger Things great and put us on the edges of our seats.
Gone by Michael Grant
The Gone series by Michael Grant presents us with a group of teenagers who have powerful special abilities, much like Eleven. There's also a dark, menacing, otherworldly power that these young people must fight to save both themselves and those they care about. Sound familiar? Gone is a fast-paced novel with five sequels for those who want another deeply immersive and thrilling story.
My Best Friend's Exorcism by Grady Hendrix
If both covers of this novel aren't already giving you nostalgic vibes, I don't know what will. Much like Stranger Things, this book peppers in pop culture references that make it a fun throwback read. However, under the surface of familiar, iconic movies and the relatable moments of beginning high school, lies a much darker story involving, as you may have guessed, a possession. For those who enjoyed the deeply loyal, protective bonds of friendship driving the characters in Stranger Things, this is a good next read for you.
The Diviners by Libba Bray
Last but not least, Libba Bray's The Diviners series follows a group of teens in the roaring '20s who must face down some very creepy supernatural beings to protect themselves and their city. The young characters in this book make a powerful, fun, dynamic team reminiscent of the Stranger Things crew, and the forces they are up against are truly chilling.