Apr 25 2019 By Jessica B.
I am a Harry Potter super-fan. I am completely obsessed, to the point of it being an embarrassing problem. Most Harry Potter fans will know their house, and if not, I highly recommend the Pottermore quiz. I identify as a Ravenclaw, and I feel very passionately about my "house." Of course, being a Ravenclaw, I love books and reading. I also love sharing my passion for reading, so I've created a list of book recommendations catered to your Hogwarts House.
"You might belong in Gryffindor,
Where dwell the brave at heart,
Their daring, nerve, and chivalry
Set Gryffindors apart"
Gryffindors are known for their courage and determination.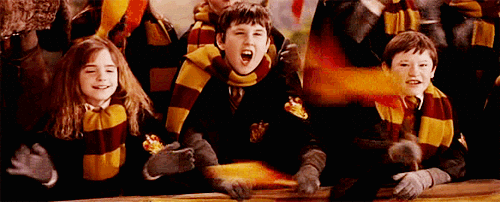 Brave, Not Perfect: Fear Less, Fail More, and Live Bolder by Reshuma Saujani, the founder of Girls Who Code, offers insights and ways to let go of your need for perfection. While this book is aimed at women, it offers life lessons that many can learn from and appreciate. Choose the bolder path, don't pass up opportunities because they are out of your comfort zone, and stop letting your fears overcome your dreams.
The Tattooist of Auschwitz: A Novel by Heather Morris is based on a true story of bravery and hope. Lale Sokolove, a Slovakian Jew, finds himself as the tattooist for his fellow prisoners in the Aushwitz-Birkenau concentration camp. Throughout his time there, Lale risks his own life to aid his fellow prisoners. He also finds himself meeting a woman and falling in love, giving him the motivation to survive his experience. You will find yourself inspired by this tale of courage set in a place where it was difficult to find anything by despair.
The Name of the Wind by Patrick Routhfuss is the first book in the Kingkiller Chronicle Series. Kvothe has an experience similar to Harry Potter in that they are both orphans who grow up to be great wizards. However, Kvothe also finds himself attending a legendary school of magic, living on the streets, joining a traveling troupe, while becoming the most notorious wizard, musician, thief, and assassin in his world. This novel will take you on a journey of adventure with a daring hero.
A Darker Shade of Magic by V.E. Schwab is also part of a trilogy series. This novel follows Kell, a Traveler—a magician that can travel between parallel universes. There are four different Londons in this world. Grey London—no magic, dirty boring. Red London—magic is celebrated and the world is flourishing. White London—people fight to control magic, and the magic fights back. Black London—no one speaks of this one. Kell is not only a courier between the Londons, but he also participates in smuggling. However, this a dangerous line of work, and after an exchange doesn't go as planned, Kell finds himself stuck in a universe fighting to stay alive while restoring balance to all of the worlds.
"You might belong in Hufflepuff,
Where they are just and loyal,
Those patient Hufflepuffs are true,
And unafraid of toil."
Hufflepuffs value hard work, dedication, kindness, and fair play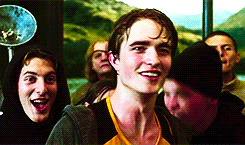 I do not want to characterize Hufflepuffs as introverts who are quiet. However, this is the house that does not seek out recognition, power, or glory. For that reason, Quiet: The Power of Introverts in a World That Can't Stop Talking by Susan Cain is an excellent suggestion for those that want to appreciate their own quiet nature. Not only does this book offer stories of successful introverts such as, Rosa Parks, Dr. Seuss, Steve Wozniak, it also provides great insight in how to value introverts in or our society and harness your own quiet into empowerment.
Ms. Marvel by G. Willow Wilson is graphic novel with a new type of superhero that wants to do good while finding non-violent solutions to problems. Kamala Khan is a realistic, ordinary teenage girl who finds herself empowered with extraordinary gifts. While exploring the limits of her powers she must also discover how to balance her family life, Muslim faith, and fighting crime. While, Kamala is a fangirl of Carol Danvers, she must find her own path to being a hero.
Station Eleven by Emily St. John Mandel begins with a flu pandemic that ends civilization as we know it. Twenty years later, a band of actors and musicians travel the country trying to keep art alive by performing concerts and theatrical acts. The group, or The Symphony, travels to a town under the control of a religious cult leader calling himself The Prophet. When they attempt to move along, Prophet follows with a violent intent. The Symphony must now fight for their own survival along with preserving what made us a society worth saving. Station Eleven is a powerful story of hope and resilience.
Cinder by Marissa Meyer is the first book in The Lunar Chronicles. This novel is an innovative retelling of a classic fairy tale with a science fiction twist. Not only is Cinder a gifted mechanic, she is also a cyborg. A plague is ravaging Earth, and the lunar people are observing from space, looking for an opportunity to overtake the planet. When Cinder meets the handsome Prince Kail, she finds herself in the middle of an intergalactic battle where she may be the key to Earth's fate. Not only is Cinder smart and resourceful, this is a story of great friendships and loyalty—two qualities Hufflepuffs value.
"Or yet in wise old Ravenclaw,
If you've a ready mind,
Where those of wit and learning,
Will always find their kind."
Ravenclaws are known for the love of learning and wisdom.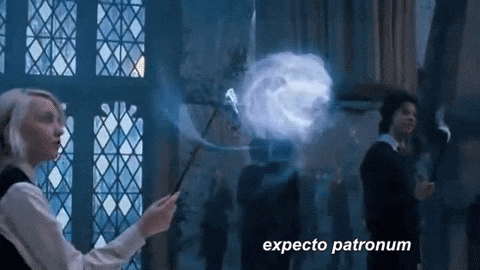 Thing Explainer: Complicated Stuff in Simple Words by Randall Munroe is a perfect book for those wanting to learn more. This book uses common words to provide simple explanations for complicated concepts. Some of the concepts and explanations as to how things work include: tectonic plates, periodic table, cells, helicopters, microwaves, and more! This is a unique and entertaining way to learn more about the things you thought were too advanced to understand.
Dark Matter: A Novel by Blake Crouch is a science fiction thriller. "Are you happy with your life?" Those are the last words Jason Dessen, an ordinary college professor hears before he is kidnapped, knocked unconscious, and awakes to a world that is not his own. The life he had is gone and he is in a new reality where he is a celebrated genius. What happened to his old life? Can he return to his wife and son that no longer exist in his new world? And does he want the answers? This novel makes one consider what is more important—genius and ambition versus your dreams and happiness.
Replica. Lyra; Replica. Gemma by Lauren Oliver is a young adult novel that is very interestingly put together. It is a "flip book" containing two narratives. The reader must read the book one way for Lyra's story, and then turn the book over and upside down to read Gemma's story. You can read it as one side and then the other, or by alternating chapters—however you choose! Lyra lives in the Haven Institute because she is a replica or human model. After a surprise attack, Lyra manages to escape. Gemma is a human but has many health issues. When Gemma is nearly abducted by a stranger, she starts to examine her father's connection to the mysterious Haven Institute. The stories mirror each other, and contain revelations that are important the other story while also introducing new and exciting mysteries to be answered.
Strange the Dreamer by Laini Taylor is also a young adult novel with a unique and original world. Two hundred years ago, humans and Mesarthim had a war that was so destructive it completely wiped out the city where it took place which become known as Weep. Lazlo is a librarian that is obsessed with the lost city of Weep and dreams of traveling to find it. Unbeknownst to humans, Weep still exists hidden and haunted by ghosts and "godspawn" who have their own special powers. Lazlo must choose to join a group of warriors from Weep that are seeking his help. He'll try to restore the city while searching for understanding of what drove the war between gods and humans.
"Or perhaps in Slytherin,
You'll make your real friends,
Those cunning folk use any means,
To achieve their ends."
Slytherins are resourceful with a great deal of ambition.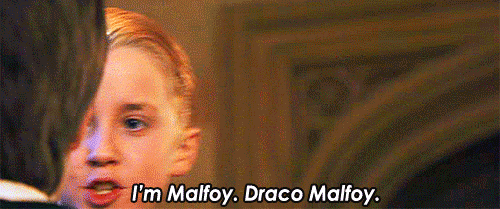 Outliers: The Story of Success by Malcom Gladwell shares the qualities of successful people and how those attributes will shape the personalities of high achievers. Gladwell believes that we need to pay attention to the whole person: culture, family, experiences, etc., in order to discover how and why successful individuals are different. Not only does this book have entertaining anecdotes, it also has insight as to how you can look at your how history to discover your potential.
Nimona by Noelle Stevenson is a graphic novel where the "bad guys" are good guys and the "good guys" are bad guys. Nimon is a shape shifter with who is impulsive and leans toward villainy. Lord Ballister Blackheart is a villain with a vendetta. The two set out on a mission to reveal corruption but find themselves in the middle of an epic battle. Nimona's powers may or may not be dangerous. She must discover that her intent behind her actions can define what type of person she is—good guy or bad guy.
The Dark Descent of Elizabeth Frankenstein by Kiersten White is an exciting take on the classic novel Mary Shelly's Frankenstein. Elizabeth Lavenza is adopted by Dr. Frankenstein as a companion to his son Victor. Her experiences before being welcomed into the Frankenstein home were horrific, and she will do whatever she can to stay with the family. Her new life becomes about managing Victor's dangerous temper, ideas, and eventually becoming his wife. As he descends into madness, she finds herself searching for Victor, his mysterious creation, and a solution that will save everyone from destruction.
Six of Crows by Leigh Bardugo is a young adult title that reads as adult, high-fantasy fiction. Kaz—a Slytherin in every way—is offered an amount of money he can't refuse to break a scientist out of an impossibly secure prison. Knowing he can't pull this off on his own, he recruits a team of highly skilled outcasts. Can they work together long enough to complete a mission that can save the world, or will their old grudges and rivalries prevent them from working together to survive?
No one is ever one characteristic. Please feel free to read suggestions outside the house of where the sorting hat has assigned you.