May 4 2019 By Christina B.
Star Wars is a worldwide phenomenon, but no one–including George Lucas–thought it would be. Since the premiere of Episode IV in 1977, this epic space fantasy has captured the imaginations of generations; its mythology has become our own, referenced by politicians and pop culture alike. As we wait expectantly for the conclusion of the Sequel Trilogy this Christmas, Star Wars: The Rise of Skywalker, Star Wars fans can celebrate the saga on the official day: May 4th. In addition to the related movies, TV shows, and music available at EVPL, here are twelve amazing stories that will deepen your appreciation for Star Wars and entertain fans of all ages. May the Fourth be with you!
PREQUEL TRILOGY
Star Wars: Obi-Wan and Anakin by Charles Soule 
Regardless of your feelings on the Prequel Trilogy, Obi-Wan and Anakin are a friendship for the ages, akin to Frodo and Sam or Harry and Ron. This graphic novel fills in a bit of time between Episode I and II, as Anakin questions the Jedi Order and his place in the world.
"Before their military heroism in the Clone Wars, before their tragic battle on Mustafar and many decades before their final confrontation on the Death Star, they were Master Obi-Wan Kenobi and his young Padawan, Anakin Skywalker. Now join them a few years into Anakin's Jedi training. Teacher and student have grown closer over time, but it's been a difficult road. And things aren't about to get any easier. In fact, when they're called to a remote planet for assistance, the pair may be pushed to their breaking point. As they find themselves stranded on a strange world of primitive technology and deadly natives, will they be able to save themselves and those who need their help?" (Summary from GoodReads)
Queen's Shadow by E.K. Johnston 
I always wondered how Padmé transitioned from her role as a queen to being one of the youngest senators in the galaxy. In this young adult novel, E.K. Johnston explains what happened in those years between Episodes I and II.
When Padmé Naberrie, 'Queen Amidala' of Naboo, steps down from her position, she is asked by the newly-elected queen to become Naboo's representative in the Galactic Senate. Padmé is unsure about taking on the new role, but cannot turn down the request to serve her people. Together with her most loyal handmaidens, she must figure out how to navigate the treacherous waters of politics and forge a new identity beyond the queen's shadow. (Summary from GoodReads)
Star Wars: Jedi Academy by Jeffrey Brown
Here is a Star Wars series for fans of Diary of a Wimpy Kid or Big Nate! Jeffrey Brown, known for his heartwarming comics Darth Vader and Son and Vader's Little Princess, tells an original story that "captures all the humor, awkwardness, fun, and frustrations of middle school." Roan–a young boy from Tatooine–has one dream, "to leave home and attend Pilot Academy like his older brother, father, and grandfather. But just as Roan is mysteriously denied entrance to the school, he is invited to attend Jedi Academy–a school he didn't apply to and that only recruits children when they are very young. That is, until now. This inventive novel follows Roan's first year at Jedi Academy, where, under the tutelage of Master Yoda, he learns that he possesses more strength and potential than he could have ever dreamed." (Summary from GoodReads)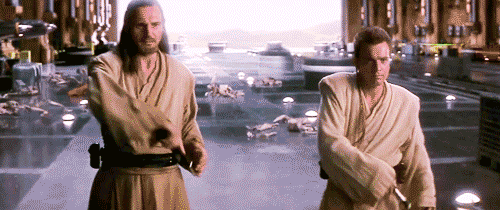 ORIGINAL TRILOGY
Scoundrels by Timothy Zahn
What happened to everyone's favorite scruffy-looking nerf-herder between Episodes IV and V? Turns out Han didn't go solo. After assisting Luke Skywalker during the Battle of Yavin, Han can't stop to celebrate as Jabba the Hutt still has a bounty out on his head.
But "a mysterious stranger turns up, offering a fortune in exchange for Han's less-than-legal help with a riskier-than-usual caper…All he has to do is infiltrate the ultra-fortified stronghold of the Black Sun crime syndicate underboss and crack the galaxy's most notoriously impregnable safe. So, Han assembles a gallery of rogues, including his indispensable sidekick Chewbacca and the cunning Lando Calrissian. If anyone can dodge, deceive, and defeat heavily armed thugs, killer droids, and Imperial agents alike–while pulling off the heist of the century–it's Solo's scoundrels." (Summary from GoodReads)
Leia: Princess of Alderaan by Claudia Gray
How did Princess Leia become the courageous leader we first meet in Episode IV?
"Sixteen-year-old Princess Leia Organa faces the most challenging task of her life so far: proving herself in the areas of body, mind, and heart to be formally named heir to the throne of Alderaan. She's taking rigorous survival courses, practicing politics, and spearheading relief missions to worlds under Imperial control. But Leia has worries beyond her claim to the throne. Her parents aren't acting like themselves lately; they are distant and preoccupied with Senatorial matters. Determined to uncover their secrets, Leia starts down an increasingly dangerous path that puts her right under the watchful eye of the Empire. Soon she finds herself facing an impossible choice: Dedicate herself to the people of Alderaan–including the man she loves–or the galaxy at large, which is in desperate need of a rebel hero…" (Summary from GoodReads)
Star Wars: The Adventures of Luke Skywalker, Jedi Knight by Tony DiTerlizzi
Here's a beautiful picture book about the hero at the heart of the Original Trilogy. The classic story "shines anew with the vibrant concept art of Ralph McQuarrie, the legendary conceptual designer" who worked with George Lucas to create the Star Wars we know and love. "McQuarrie's art is paired with captivating text by New York Times best-selling author, Tony DiTerlizzi, a winning combination that will delight fans old and new." (Summary from GoodReads)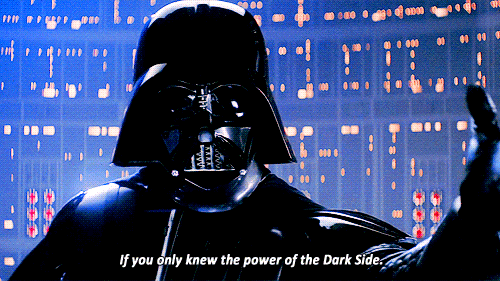 SEQUEL TRILOGY
Aftermath by Chuck Wendig
"As the Empire reels from its critical defeats at the Battle of Endor, the Rebel Alliance—now a fledgling New Republic—presses its advantage by hunting down the enemy's scattered forces before they can regroup and retaliate." Meanwhile, "determined to preserve the Empire's power, the surviving Imperial elite are converging on the remote plant of Akiva for a top-secret emergency summit—to consolidate their forces and rally for a counterstrike." Join pilot Wedge Antilles, rebel fighter Norra Wexley, her technical-genius son, a Zabrak bounty hunter, and an Imperial defector "who are prepared to do whatever they must to end the Empire's oppressive reign once and for all."  (Summary from GoodReads)
Poe Dameron by Charles Soule
In this fun graphic novel series, readers follow the best pilot in the galaxy on his missions against the First Order prior to Episode VII.
"Poe Dameron, former Republic flyer turned Resistance fighter, was hand-picked by General Leia Organa to lead an X-Wing squadron on a top secret and vital mission to track down her Jedi brother, Luke Skywalker." (Summary from GoodReads)
Before the Awakening by Greg Rucka
"A shadow has been cast across the galaxy. Where once there were hope and peace, now there is fear and the looming clouds of war. The First Order is rising, its power growing, and the New Republic may well be powerless to stop it. Among the billions upon billions of beings in the galaxy, three individuals will find themselves drawn into the heart of this conflict. Each of them will play a vital role in what is to come. Each of them will face darkness. Each of them will struggle to reach the light." (Summary from GoodReads)
Here are Rey, Finn, Poe, the new trio at the forefront of the Sequel Trilogy, right before we meet them in Episode VII.

BONUS RECOMMENDATIONS
William Shakespeare's Star Wars: Verily, A New Hope by Ian Doescher
For the more classically minded reader, this book (and the entire series) is a ton of fun. To start with, R2D2 speaks in eloquent, characteristically snarky monologues rather than the familiar beeps and boops!
"Return once more to a galaxy far, far away in this sublime retelling of George Lucas's epic tale in the style of the immortal Bard of Avon. The saga of a wise (Jedi) knight and an evil (Sith) lord, of a beautiful princess held captive and a young hero coming of age, Star Wars abounds with all the valor and villainy of Shakespeare's greatest plays. 'Tis a tale told by fretful Droids, full of faithful Wookiees and fearsome Stormtroopers, signifying…pretty much everything. Reimagined in glorious iambic pentameter, William Shakespeare's Star Wars will astound and edify Rebels and Imperials alike. Zounds! This is the book you're looking for." (Summary from GoodReads)
Ahsoka by E. K. Johnston
One of the brightest stars of the animated Clone Wars series is Ahsoka Tano, Anakin Skywalker's padawan, who fought side-by-side with many beloved characters including Obi-Wan Kenobi, Yoda, and Captain Rex. She is one of the most complex and beloved female characters in the entire saga, who totally deserves to have an entire book dedicated to her. While I haven't read this one yet, I have wondered "what happened to Ahsoka…near the end of the Clone Wars, before she re-appeared in Star Wars Rebels." In this young adult novel, her story will finally be told. "Following her experiences with the Jedi and the devastation of Order 66, Ahsoka is unsure she can be part of a larger whole ever again. But her desire to fight the evils of the Empire and protect those who need it will lead her right to Bail Organa and the Rebel Alliance…" (Summary from GoodReads)
From a Certain Point of View edited by Elizabeth Schaefer 
"In honor of the 40th Anniversary of Star Wars: A New Hope, this unique anthology features Star Wars stories by bestselling authors, trendsetting artists, and treasured voices from Star Wars' literary history. Together, they retell the story of Episode IV, with each scene told from the viewpoint of a seemingly minor character" such as the Jawas who found C3PO and R2D2 on Tatooine, the monster in the trash compactor, and a desk jockey aboard an Imperial Star Destroyer. It's a fantastic collection that lends a new perspective to a familiar tale, and "celebrates the influence and legacy of the unparalleled cultural phenomenon, Star Wars." (Summary from GoodReads)